Below are samples to give you ideas of layouts, images, color and type or let us create something custom for you. Custom design is included in the price of the sign.
Upload and logos or images with your order along with instructions and we'll email you a proof. It's that simple!
WE CUSTOM DESIGN YOUR SIGN, PRINT AND SHIP DIRECTLY TO YOU ALL FOR ONE LOW PRICE!
12″ x 18″ $24.99 | 18″ x 24″ $29.99 | 24″ x 24″ $39.99​
Prices are for rectangular .040 aluminum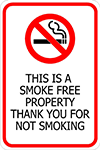 24x24 NEW TEXAS LAW - OPEN CARRY SIGNS $39.99
Quantity Discount Available
SAMPLES ONLY... WE WILL CUSTOM DESIGN ANYTHING YOU WANT